Georges Bizet
(1838 - 1875)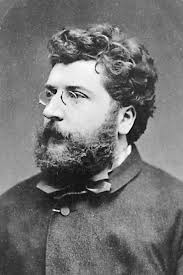 Typical of his independent mind, Alexandre-César-Léopold Bizet (October 25, 1838 - June 3, 1875) tossed over his baptismal names and took Georges for his own. A native Parisian, he enrolled at nine in the prestigious Conservatoire, starting in piano and ending up in the composition class of Fromental Hálevy, writer of the opera La Juive, among many others. He won the Prix de Rome at the age of 19. Of greater importance to Bizet's composition was the influence of Gounod.
Enjoy classical concerts of Bizet music in Prague. Book tickets online >>>
Bizet's career is a classic example of "not enough time." Although he wrote masterpieces early (his Symphony in C certainly stands as one of the most accomplished of its time and place, and he wrote it at the age of 18), throughout his adult life he had to support himself doing more or less mechanical musical jobs – mainly arranging the orchestral and opera scores of others for the piano or piano and voice. Furthermore, he was severely self-critical, beginning projects and then abandoning them as not good enough. He had trouble finding his artistic path. Les pêcheurs de perles (1863) is his first successful opera, and he cannibalized earlier works to finish it. It had an initial modest run, although most of the Parisian critics hated it. However, Berlioz, the greatest of them all, hailed the composer as a great talent with a brilliant future. For his part, Bizet was overwhelmed, a few weeks later, by the premiere of the older composer's Le Troyens à Carthage, the mutilated version of the masterpiece Les Troyens. In 1867 came the opera La jolie fille de Perth, based on the novel by Sir Walter Scott. Critics gave it a warm reception, but it mustered only a tepid response from the public.
Around 1870, Bizet hit his stride, writing most of the music for which we know him best: the twelve pieces for piano duet, the delightful Jeux d' enfants (1871, six pieces orchestrated 1872), incidental music for Daudet's play L'arlésienne (1872; various numbers arranged into orchestral suites), and, finally, Carmen (1874), which established Bizet as far and away the great 19th-century French opera composer, along with Hector Berlioz. Carmen gave Bizet the greatest success in his lifetime, despite the critics who attacked it, mostly on the grounds of morality. Carmen represented something not exactly new, but nevertheless rarely seen in French opera – a gritty realism and a direct, punchy musical style. Instead of classical, Biblical, or mythic heroes, it dealt with low life in an acute and raw psychological context. Don Jose is no Aeneas. Carmen is no Dido. For that matter, they're not Romeo and Juliet either. Instead of love, the opera talks of sex and its destructive complications. The opera retains its power today, enjoying innovative new productions, most of which emphasize its back-alley atmosphere. Throughout its history, it kept Bizet's name alive until the first modern revival of interest in the Thirties.
During the initial run, Bizet became ill – probably through overwork and depression. Before the run had ended, he suffered two heart attacks and died age 36.
Upcoming classical concerts of the composer's music in Prague: