Prague Public Transport Tickets

Tickets type
Short-term ticket – 30 minutes
Adults: 24 CZK (approx 0,90 EUR)
Children 6-15 years: 12 CZK (approx 0,45 EUR)
Adults 65-70 years: 12 CZK (approx 0,45 EUR)
Children under 6 and adults over 70: free
Basic ticket – 90 minutes
Adults: 32 CZK (approx 1,20 EUR)
Children 6-15 years: 16 CZK (approx 0,60 EUR)
Adults 65-70 years: 16 CZK (approx 0,60 EUR)
Children under 6 and adults over 70: free
1 day ticket – 24 hours
Adults: 110 CZK (approx 4,10 EUR)
Children 6-15 years: 55 CZK (approx 2,05 EUR)
Adults 65-70 years: 55 CZK (approx 2,05 EUR)
Children under 6 and adults over 70: free
3 days ticket – 72 hours
Adults and children 6-15 years: 310 CZK (approx 11,40 EUR)
Children under 6 and adults over 70: free
Prague publik transport tickets can be used on any type of public transportation and allow for transfers between lines (subway to subway, tram to tram, etc.) and transfers between different types of transport (subway to tram, tram to bus, etc.).
A ticket must be punched at the entrance to the metro station and on the tram/bus to mark the start of the validation period.
Where to buy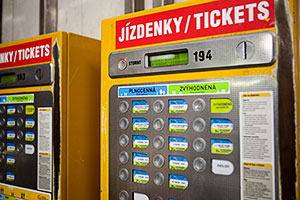 Tickets are sold through yellow ticket vending machines (English language optional, coins only), at ticket offices located at some metro stations, at the Prague Airport Info center, Terminal 1 / Terminal 2 arrivals halls, at a Tobacconists (Tabák/Trafika), at some newsstands, and at tourist information centers.
You can also buy tickets by using your mobile phone and sending the text message "DPT24" (for Short-term ticket – 30 minutes) or "DPT32" (for Basic ticket – 90 minutes) to the number 90206. Your ticket will usually be sent to your phone within one minute. If you requested a ticket by SMS, you must have received your ticket before you enter the vehicle or the paid zone on the subway.

Useful link:
Prague Public Transit Co. Inc.