Hakan Şensoy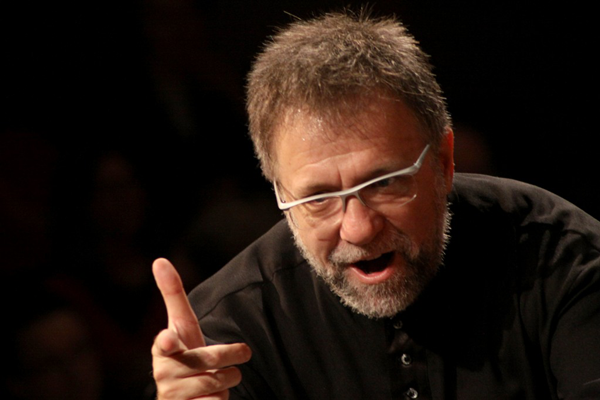 A world-renowned violinist and conductor, Maestro Hakan Sensoy's musical career first started at the State Conservatory of Istanbul's Accelerated Special Violin Education Program for young prodigies, taught by the eminent pedagogue Professor Ayhan Turan. As a violinist, Maestro Sensoy furthered his education with Trevor Williams at the London Royal College of Music, and later with the Russian violinist and pedagogue Victor Pikaisen, as well as the celebrated Turkish State artist Ayla Erduran. At age 16, he was named "Most Successful Artist of the Year" by the Istanbul Philharmonic Association. That year he received the most significant award of the Istanbul Technical University, "Superior Success in an Artistic branch," given only four times in its entire history. Since his first solo recital at the age of 13, he has appeared as a soloist in some of the most significant concert halls in Europe and the United States, including the Louvre Auditorium in Paris, Smetana Hall in Prag and Carnegie Hall and Lincoln Center in New York. On numerous occasions he has performed in such international festivals as the Bari Christoph Colombus Festival, Como Classica, the Istanbul Music Festival, the Izmir Music Festival, the Ankara Music Festival, the Istanbul CRR Young Soloists Festival, the Brasov Chamber Music Festival, the Malmö "Falsterbonasets" Summer Festival, International Como Music Festival and the Swedish Karlskrona Music Festival. In addition, he has performed in other venues in Italy, France, Holland, Greece, Switzerland, Bulgaria, USA, Romania, Lithuania, Azerbaijan, Estonia, Sweden, England, Australia, Kosova, Venezuela, Austuralia, Mexico, Czech Republic, Singapore, Albania, Bosnia Herzagovina, Macedonia, Poland, Cyprus and Turkey. Hakan Sensoy's study of conducting started when he was 16 under the legendary Turkish conductor Demirhan Altug. He furthered his education with Maestro Emin Güven Yaslicam. Since then he has conducted some of the most significant soloists of our time, including Sholomo Mintz, Raphael Walfisch, Fazil Say, Steven Iserlis, Cihat Askin, Tedi Papavrami, Peter Jablonsky, Gülsin Onay, Emre Elivar, Milos Karadaglich etc. As a conductor, he also worked with Terence Blanced,The Bee Gees, Dreamtone, George Dalaras, and Iris Mavraki's Neverland. Hakan Sensoy is the founder and artistic director of the Istanbul Chamber Orchestra and the Filarmonia Istanbul, Milli Reasürans Chamber Orchestra and Karsiyaka Chamber Orchestra.
Maestro Sensoy conducted or performed on the violin the world premieres of several new works by contemporary composers. On a regular basis he commissions composers to write new works for violin as well as for his orchestra Filarmonia Istanbul. Turkish-American composer Münir Beken dedicated his first symphony to Maestro Sensoy.
Hakan Sensoy has appeared in numerous radio and television programs all over the world. Kalan Music and AFM Records have recorded his performances as violinist and conductor.
Maestro Sensoy holds a doctoral degree in music from theIstanbul Technica lUniversity. Currently he is a professor of violin at the State Conservatory of Istanbul Technical University.