The Best of Tchaikovsky, Dvorak & Grieg + tour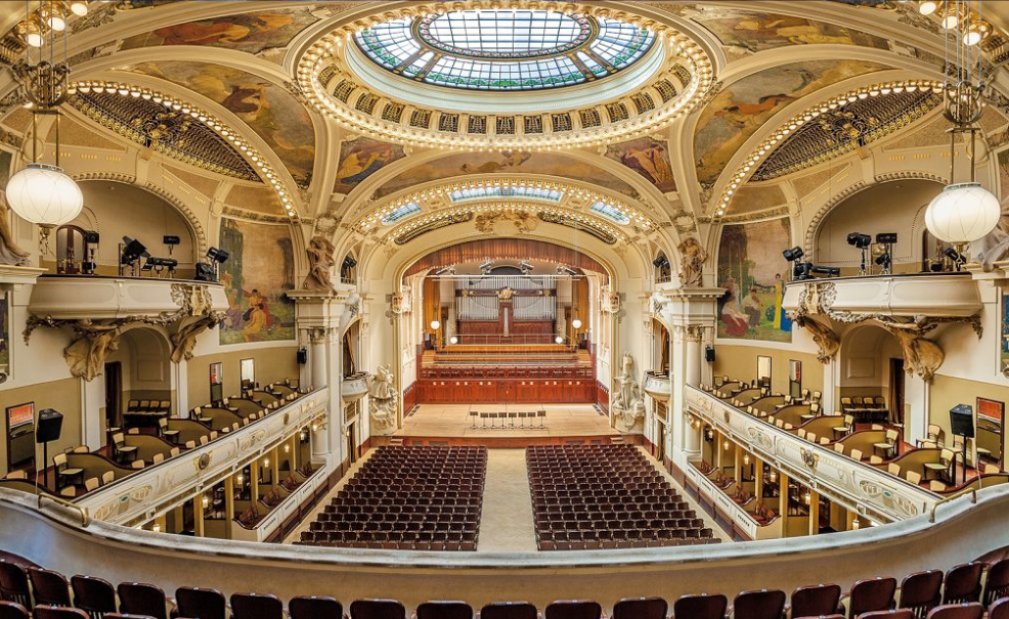 Famous works of classical masters in beautiful Smetana Hall with Unique Possibility - the tour of the representation halls included in the ticket price!
The venue is Smetana Hall, which is the most beautiful concert hall in Prague and is the main hall of the Municipal House.
Entry for the tour starts one hour before the beginning of the concert.
The Municipal House in Prague was built at the place of the former Royal Court in 1912 to celebrate the Czech nation and has been one of the most significant public buildings in Prague for over a hundred years. It is a representative building which for its splendour and beautiful decorations is one of the jewels of Prague architecture. Although the building is usually described as an "Art Nouveau" edifice it is more of a blend of neo-Baroque, neo-Renaissance, western and oriental influences and Czech Art Nouveau style. This representative building is, above all, a great venue for classical music concerts and one of the prime venues of the world-famous Prague Spring Festival.
Representative Smetana Hall was the site of the independent Czechoslovak Republic declaration in 1918. Nowadays it serves predominantly as a concert hall. Beautiful Art Nouveau decorations – paintings with Slavic motifs, decorative stained glass ceiling, gilded lamps, beautiful organ – all this creates an unusually harmonic whole, which is a worthy area for implementation of the greatest treasures of Czech and world classical music.
Program
Edvard H. Grieg: Holberg suite for strings, op. 40
I. Praeludium
II. Sarabande
III. Favorite
IV. Air
V. Rigaudon
A. Dvořák: Two Waltzes, op. 54
I. Moderato
II. Allegro
P. I. Tchaikovsky: Serenade for strings, op. 48
I. Pezzo in forma di sonatina
II. Valse
III. Elegie
IV. Finale (Tema russo)
iolin solo - alternations:
Vlastimil Kobrle
Petr Zdvihal
Ondřej Skopový
Jan Mráček
Vlastimil Kobrle
former concert master of the Suk Chamber Orchestra and a soloist of the New Prague Collegium Radio Symfonists
Petr Zdvihal
a concertmaster of the Czech Radio Symphony Orchestra
Ondřej Skopový
former member of the Prague Radio Symphony Orchestra and the second violin in Czech Philharmonic orchestra, member of Prague Royal Orchestra, Berg Chamber Orchestra, Talich Chamber Orchestra, Prague Collegium, etc.
Jan Mráček
the winner of the Fritz Kreisler International Competition in Vienna, second price at the Prague Spring International Competition.
Performed by
Prague Music Chamber Orchestra (8 - 11 members)
This group is made up of renowned musicians who play in leading orchestras such as the Czech Philharmonic Orchestra and the Czech Radio Symphony Orchestra. The Prague Music Chamber Orchestra excels with its unique sophisticated sound, and is representative of a highly-valued form of interpretative art.
Note
Duration: 60 minutes
Dress code: casual
Senior citizen discount: over 65 years
Student discount: 11 - 26 years old with a valid student identification card
Children under 10 are admitted free of charge.