Advent and Christmas Mozart Dinner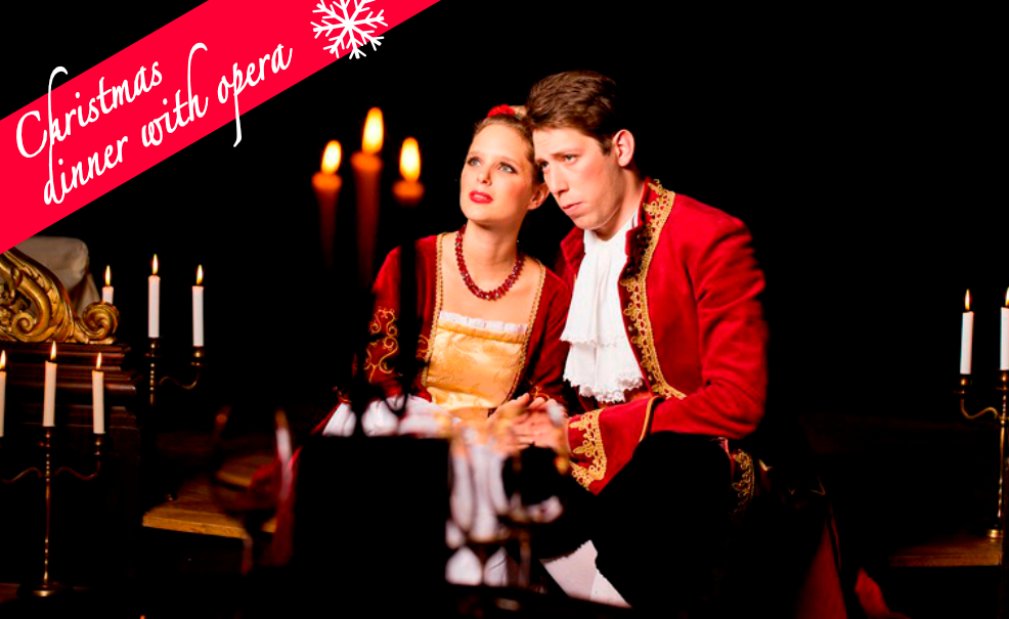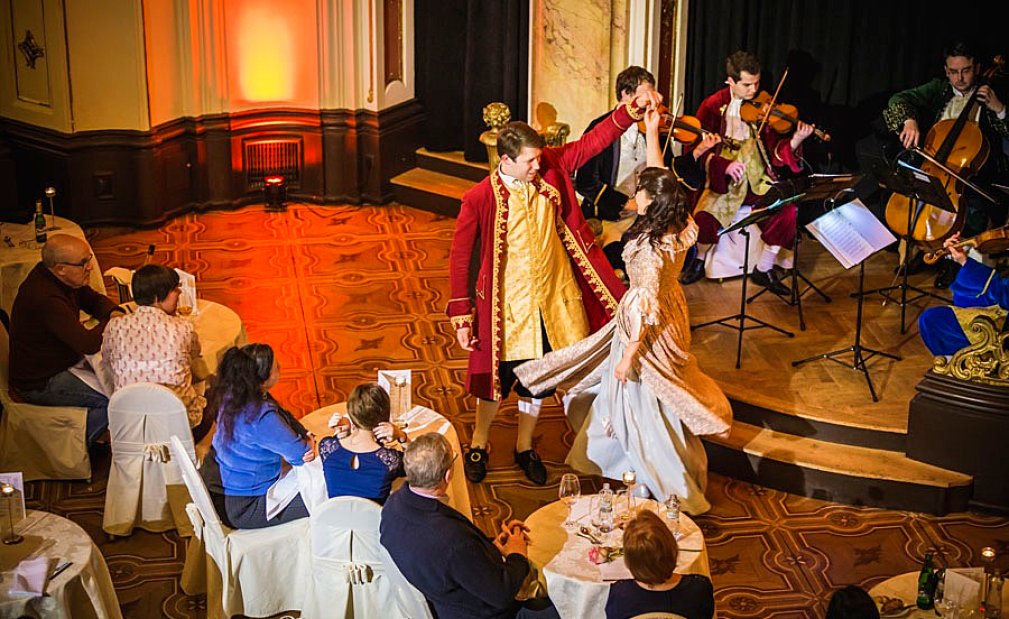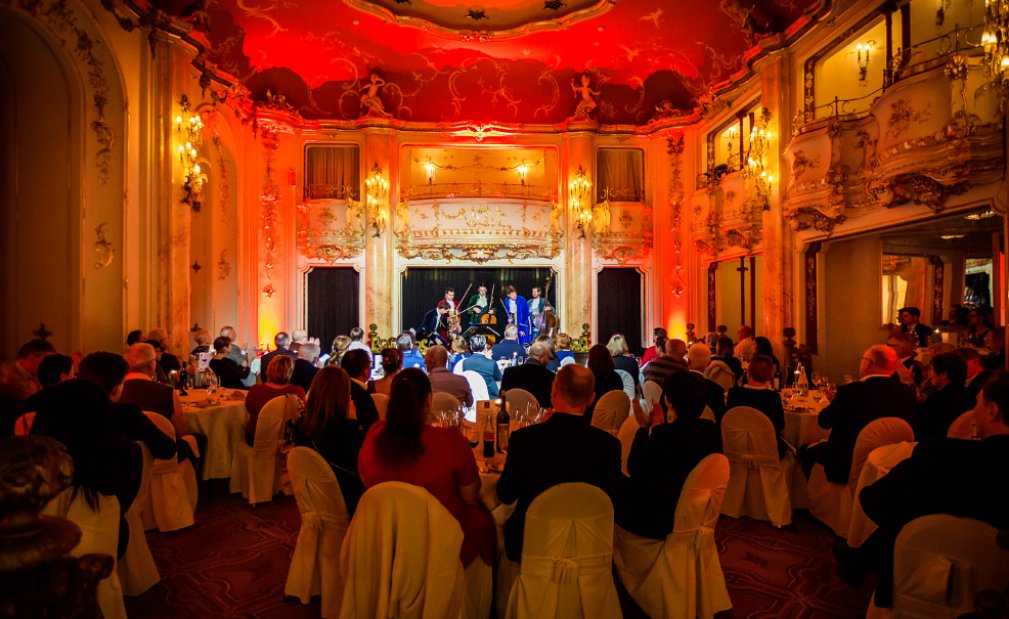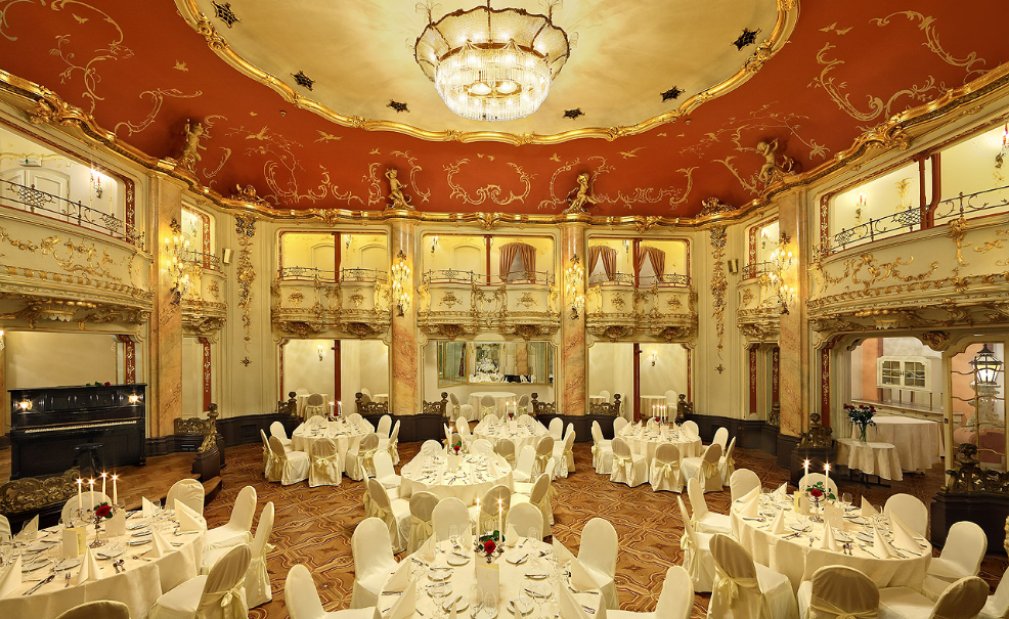 Excellent Opera Singers and Musicians.
Historically Protected Hall in the Heart of Prague.
Exceptional Cuisine.

Boccaccio Ballroom is a breath-taking beauty and a masterpiece of artificial marble, gold, and crystal glass. It is located in the very heart of the Old Town quarter in the center of Prague. It is one of the mythical places in Prague where the great parties and shows with dinner were regularly held.

Concert program
First Part - Don Giovanni
Aria Leporella – "Notte e giorno faticar"
Duet Zerlina and Masetto – "Giovinette che fate l´amore"
"A Little Night Music – Allegro" (1st movement)
Aria Zerlina – "Batti, batti o bel Masetto"
"A Little Night Music – Romance" (2nd movement)
Duet Giovanni and Zerlina – "La ci darem la mano"
Second Part - The Best of Mozart's Operas
Aria Figaro – "Non piú andrai" – from "The Marriage of Figaro"
Aria Cherubino – "Voi che sapete" from "The Marriage of Figaro"
"Divertimento in D major – Allegro"
Aria Don Giovanni – "Finch´ han dal vino" from "Don Giovanni"
"Divertimento in D major – Presto"
Duet Susanna and Figaro – "Tutto é tranquillo…Pace, pace" from "The Marriage of Figaro"
Third Part - The Magic Flute
Duet Papageno and Pamina – "Bei Männern welche Liebe fühlen"
"A Little Night Music – Menuetto" (3rd movement)
Aria Pamina – "Ach ich fühl's"
Aria Papageno – "Ein Mädchen oder Weibchen"
Duet Papageno a Papagena – "Pa-pa"
Fourth Part - New Year's Day
Kaiser Walzer – J. Strauss II
"All I Ask of You" – A. L. Webber
"Meine Lippen Sie küssen so heiß.. ". – F. Lehár
Aria Don Giovanni – "Finch´ han dal vino" from "Don Giovanni"
"Lippen schweigen" – F. Lehár
The three parts of classical Mozart concert programme (each of them takes 20 minutes) is performed between each course of the menu.

The dinner comprises 4 courses inspired by traditional recipes from the Czech and Austrian cuisine.
Beef menu
Welcome drink Bohemia Sekt Brut
Soup:Cream of sweet peas with chive yogurt and croutons
Main course: Beef Bourguignon with baked potatoes and green beans
Dessert: Home-made apple pie with vanilla sauce
Vegetarian menu
Welcome drink Bohemia Sekt Brut
Soup: Cream of sweet peas with chive yogurt and croutons
Main course: Homemade potato gnocchi in creamy paprika sauce with roasted vegetables, chef's recipe
Dessert: Home-made apple pie with vanilla sauce
Children's Menu
Soup: Cream of sweet peas with chive yogurt and croutons
Main course: Mini Chicken nuggets with steamed potatoes and carrots in butter
Dessert: Home-made apple pie with vanilla sauce

Performed by
Amadeus Prague Ensemble
Terezia Svarcova - soprano
renowned opera singer and songwriter; for several years a soloist in the Moravian Theatre in Olomouc and performing at prestigious concerts in the Czech Republic, Germany, Austria, and Italy.
Daniel Klansky - baritone
a very talented baritone singer and a pianist, walking in footsteps of his father, a world-famous Czech pianist Ivan Klansky. Daniel successfully participates in various domestic and international singers competitions and has had many concert performances in several concert halls in Europe.
Quintet Amadeus Prague
is formed by 5 instrumentalists from Prague Radio Symphony Orchestra, who perform their art dressed in period costumes.

Category
Balcony box is an exclusive seating that offers beautiful decor and maximum privacy while maintaining good visibility to artists and great acoustics. You will also have a beautiful view of the entire room.
Table for Two the greatest advantage is the proximity to the performers. You will be a few feet and provided for an intimate experience that you will not get anywhere else.
Table for Eight is intended primarily for those who love the company and want to meet new people. There is a total of 8 people at tables.

Note
Each part of the concert takes 20 minutes.
Recommended arrival time to the venue: between 18:30-18:45
Last order of the drinks before the 1st part of the evening: 18:50
Duration : 150 minutes
Dress code: smart casual